This is one of the WAK JAPAN's original programs featuring kimono fitting at an instructor's home.
An instructor explains kimono fabric, dyeing and weaving technique, and kimono patterns as well as how to tailor while dressing you up in Kimono.
Details
・This experience is a private program.
・Time required approx 2.5h
・We have several different start time please choose your best.
(9:30-,10:00-,13:00-,15:30-,)
*Please make a reservation beforehand two weeks ago.
Formal Kimono (private program)
Made in silk. Long sleeves called Furisode for women and Hakama, divided skirt and Haori, formal half-coat for men. For special events such as the coming-of-age day, graduation ceremonies or wedding parties.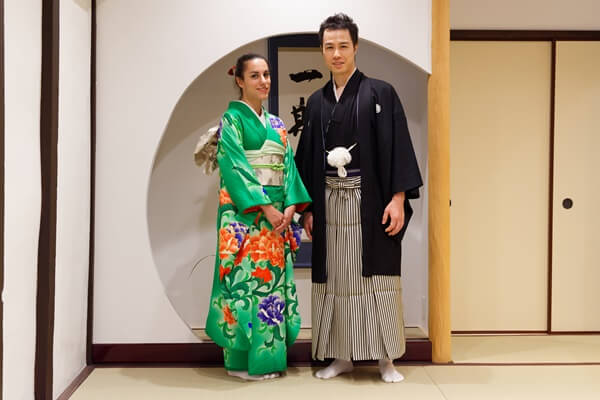 | | |
| --- | --- |
| Number of people: 1 | Price per person 28,080 yen |
| Number of people: 2 | Price per person 17,712 yen |
| Number of people: 3 | Price per person 16,848 yen |
Notes on reservation
1. The activity time may be shorter if you arrive late. 
5. Max group size: approximately 9 people (A large group may be divided into multiple smaller groups) 
3. Child's fee is not available. 
4. Interpreting services for languages other than English are available upon request. (An additional fee is required.) 
5. A full charge is required for an observer. 
* Cancellation charge: 7-2 days before: 20%, Previous day: 60%, On the program day: 100%
Any change of time or day will be subjected to cancellation policy